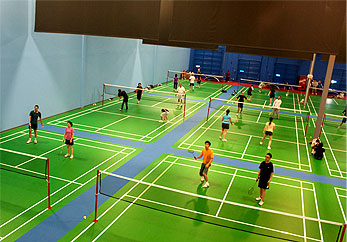 We offer a state of the art facility that has no rival. Twelve superior courts, that feature the worlds' largest and most advanced Mondo badminton floor. Mondo flooring has been appointed as official suppliers to the Olympic Games.
It's an anti-glare surface with excellent impact absorption, remarkable duration, and ant-bacterial, and its here at Badminton Vancouver. With our courts our lines will always stay straight and are very difficult to scuff.
We also spent our time and due diligence in our lighting system. That's why we offer state of the art energy efficient anti-glare lighting. At Badminton Vancouver you'll see every shot you make without being hampered or distracted by poor quality lighting. Our facility also boasts 33'foot ceilings, and most importantly it's always an ideal temperature inside thanks to a top notch climate control system.
Our courts were designed with the ultra committed badminton enthusiast and the everyday player in mind. Playing on our courts will only have you coming back for more.
Gallery