REGISTER NOW FOR BADMINTON VANCOUVER'S 2013 SUMMER CAMP! $239/WEEK! JUST DROP OFF YOUR KIDS AND WORRY NO MORE!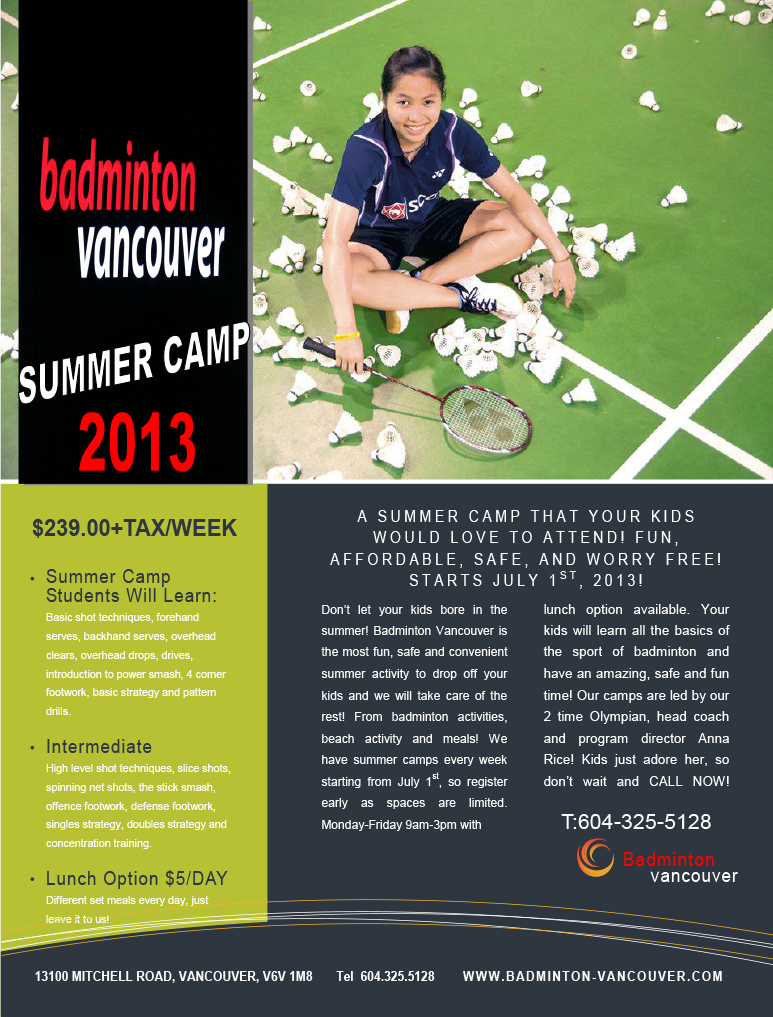 Badminton Vancouver Summer Camp 2013! Starts July 1, 2013 on a weekly basis! Monday-Friday 9AM-3PM. Just drop off your kids in the morning and they will have a great time at summer camp here at Badminton Vancouver. Not only will they learn the fun and challenging sport of badminton but they will get a chance to meet new friends that can enjoy badminton together. We are the perfect place for a hassle free, fun, safe and affordable experience. Your kids will love it!
This camp is specifically designed by our 2 time Olympian, head coach and program director Anna Rice. The kids absolutely love her and the program will fit any level and for any age. Summer camp students will learn forehand serves, backhand serves, overhead clears, overhead drops, drives, introduction to the power smash, 4 corner footwork, basic strategy and pattern drills.
Intermediate and more advanced players will learn slice shots, spinning net shots, the stick smash, offence footwork, defence footwork, singles strategy, doubles strategy and concentration training!
Pricing is $239/week per individual. Lunch option is available for $5/day, and we will have different set meals everyday of the week. What more can you ask for! Register now! Call 604-325-5128 to reserve your spaces, limited spaces available, don't be too late! Your kids won't want to miss out! If you have any other questions or concerns, please don't hesitate to call us and we can address all your concerns!